FEATURED AERIAL LIFTS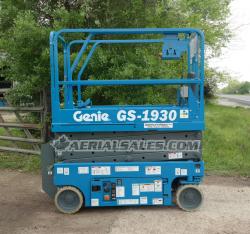 GENIE 1930 Refurbished
Price: US$1.00
Genie 1930 Refurbished scissor lift
19' platform
25' working height
30" wide
deck ext
non-marking tires
proportional joystick control
Call or email for current availability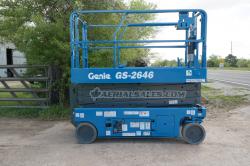 GENIE 2646 Refurbished Scissorlift
Price:
32' working height,
46" wide, deck ext, non-marks.
Refurbished with warranty.
Available new used and refurbished.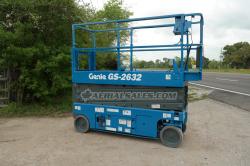 GENIE 2632 Scissor lift for sale
Price: US$1.00
Narrow 26' electric scissorlift
32" wide
32' working height
Refurbished, new & used available.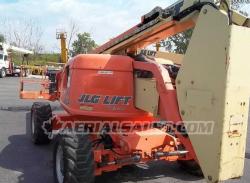 JLG 600A Articulating Manlift
Price:
JLG 600A articulating manlift available new, used and refurbished.
Scissor lift, Man lift, Boom lift, Aerial lift, Forklift
Aerialsales.com is your high reach and material handling specialist, providing both material and personnel lifts to the industry. Aerialsales.com sells new , used and refurbished lifts, including boomlifts, scissor lifts and aerial lifts. And we feature the best brands in the business, including Genie, JLG, Skyjack, MEC, Upright, Snorkel, Haulotte and others.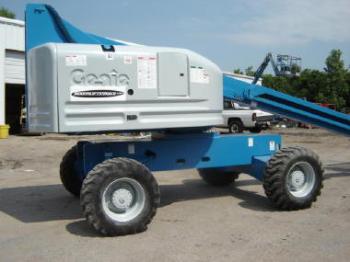 Aerialsales.com is a full service aerial equipment company, with expert knowledge of all brands and makes of aerial lifts and material handling equipment. From our two  locations in Ontario, Canada and Texas, USA. We are able to serve the needs of a diverse client base from Canada, Mexico, South America, Korea, China, Vietnam, Colombia, Guatemala and throughout the world. With expert knowledge of importing, exporting and shipping at competitive rates.
Our boom lifts, including telescopic boom lifts, offer a great variety of options for electrical and construction jobs, from small private tasks to the largest commercial endeavors. We have a variety—literally hundreds!—of boomlift models and sizes. Our scissor lifts, an economical alternative to boom lifts, come with varying lift platforms, load capacities and fuel requirements. But all of our scissor lifts are ideal for carrying and lifting heavy construction material like cement and steel blocks. And our electric scissor lifts, with extremely low noise levels, are ideal for carrying heavy loads in tight working spaces.
Aerialsales.com also features an array of man lifts and aerial lifts, for indoor and outdoor use, that vary in height, weight capacity and reach. We have 2- and 4-wheel aerial lifts, which are powered by gas, electricity, diesel and bi-energy. The majority of our man lifts offer optional all-wheel drive, oscillating axles and traction control.
We can locate, evaluate, negotiate, inspect and ship any machine you might need.
Advanced Aerials is independently owned and operated. We take pride in customer service! Se Habla Espanol
Aerialsales.com is your source for Aerial Equipment. With popular brands such Genie Lift, JLG, Skyjack, Snorkel, Upright, Terex Lift, Marklift, Simon, MEC and Condor.
Do you have equipemnt for sale? Please contact sales@aerialsales.com.
We constantly update our website, so check daily. If you don't see what you need please call.